About Us
Retrospect Galleries is the leading contemporary Art Gallery in the vibrant, artistic hub of Byron Bay, Australia. Our offices in Mallorca Spain, work directly with clients in the EU and USA. Renowned for its representation of innovative, exploratory artists and artworks, Retrospect Galleries co-ordinates a creative annual program and a touring platform to many Art Fairs around the world including Context Miami, Shanghai Contemporary Art Fair, Korean International Art Fair (KIAF), Art Toronto, Art Wynwood and LA Art Show. Combined experience of over 15 years of gallery exhibitions and our amazing attentive staff who travel with the art works, Retrospect Galleries has built a reputation for in-depth knowledge, valuable advice and thrilling artistic discoveries.
"In my artistic work I am looking for transformation of life forms, creating hybrids, which give a surprising view on our possible future. Human and animal anatomy have an important place in my artistic research. I am interested in the transformation process of the physical remains of a creature: its skull or skeleton would light up brightly in my sculpture, 'breading' new energy."
DISCOVER MORE
Retrospect galleries at art miami - nov 29- dec 5
We are thrilled to present brand new works created by an exciting mix well established and emerging artists from around the world at the ninth edition of CONTEXT Art Miami that will feature international galleries showcasing emerging, mid-career and cutting-edge artists. CONTEXT Art Miami continues to develop and push boundaries on the conversation about contemporary art. The Fair offers an exceptionally strong platform for collectors to discover and acquire fresh and significant works in today's primary art market.
See you at Art Miami
Monica fernandez | new works
After a sell out show in Context last year, we are thrilled to have five new works by Monica Fernandez. Two in an incredible Diptych and 3 in a triple peice stunning artwork spanning 3 mtrs long.
View Monica's new work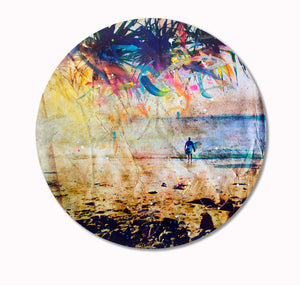 Alberto sanchez - circular series
'Arbol de Cancion (Song of a Tree) is a new original artwork by Spanish-Australian award-winning artist Alberto Sanchez. He prints, hacks and re-invents his own photographs using a unique hand colouring technique, creating his highly personal form of magic realism where photographic documentary is meshed with improbable landscapes. 
This series is exploring finishing works in a round format. Furthering the artists ideas of urban 'dreams' or fragments from our childhood memories.
See Alberto's latest creations
Art Consultancy
After more than 15 years working with artists as well as art collectors and interior designers, Retrospect Galleries have built a reputation for in-depth knowledge, valuable advice and thrilling artistic discoveries.
We are pleased to put this expertise at your disposal to help you source that special artwork to meet your requirements. We can do this through our extensive network of artists and partners as well as through a bespoke commission that we would manage for you from beginning to end.
We are pleased to offer complimentary advisory service including creating bespoke simulations of the artwork in
Find Out More
Testimonials
We love living with Alberto Sanchez's London Installation in our dining room. It is such a wonderful vista of the Thames and Tower Bridge... And it is the first thing anyone who comes for dinner notices, starting so many great conversations.

Luca and Natalia, UK
I am so glad we met you! And so thankful for all the time you spent talking to my daughter and I during the Art Fair. We felt such confidence in collecting our first piece of art from you, and left with a greater understanding of the artist and their inspiration. We can't wait to see you again next year...

Mark Shaw, Hong Kong
We absolutely love the work by Kirsten Jackson that we bought from you last year. We hung it above the kitchen table and it brightens up our morning every day. It has really changed our apartment and brought such joy to our every day.

Ilona Fisher, New York