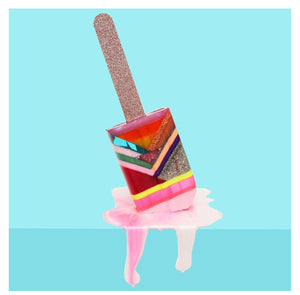 Artist: Betsy Enzensberger
Title: Tropical Paradise | Betsy Enzensberger | Sculpture
Size: 33h x 15w x 15d cm (13h x 5.9w x 5.9d in)
Media: Resin, glitter, ink and wood
Unique work
Oh Baby! This is a sparkle-coated, chevron-style beauty! Tropical Paradise is a medium sized sculpture (13" / 33 cm) with two vertical drips (4" / 10 cm).
This is a 100% handmade resin sculpture by Betsy Enzensberger. Each sculpture is unique and can not be exactly replicated. This sculpture has a special rose gold glitter stick
American artist Betsy Enzensberger has become well known for her realistic, larger-than-life sculptures of dripping, frozen treats and other sweet-toothed delights.

Resin looks like candy. It looks delicious and sweet. The shiny exterior has a wet, melting quality. Her Melting series relies on the childlike lure of sweet, sticky lollipops and popsicles to artificially instill intense desire. The colorful confections practically beg to be rescued and consumed. Bringing the kitsch, pop art theme to the 3D realm, her sculptures have a tangible, irresistible quality that delight the onlooker.

"Resin – I love it. It's beautiful, sexy, mysterious. It's also toxic, messy, and extremely labour intensive to sculpt. There's just something about it I can't resist. I dream about it. I want to touch it. I want to eat it."

Care: Dust with air or wipe with a damp cloth. Resin will become soft when hot and brittle when cold. Please keep your sculptures inside, as sun can damage the materials.